Crafting Mindful Digital Spaces
Social media was made to distract us. There are people who, quite literally, are employed to design social networking interfaces that keep us engaged and, yes, addicted to using them. If we are honest about some of our biggest distractions, many of us would admit that we have caught the case of The Endless Scroll Syndrome at least once before. The most common remedy that I've seen via my fellow Instagrammers is a social media detox. (In other words, when someone posts to their story that they are, "taking a break from social media," *insert peace sign emoji).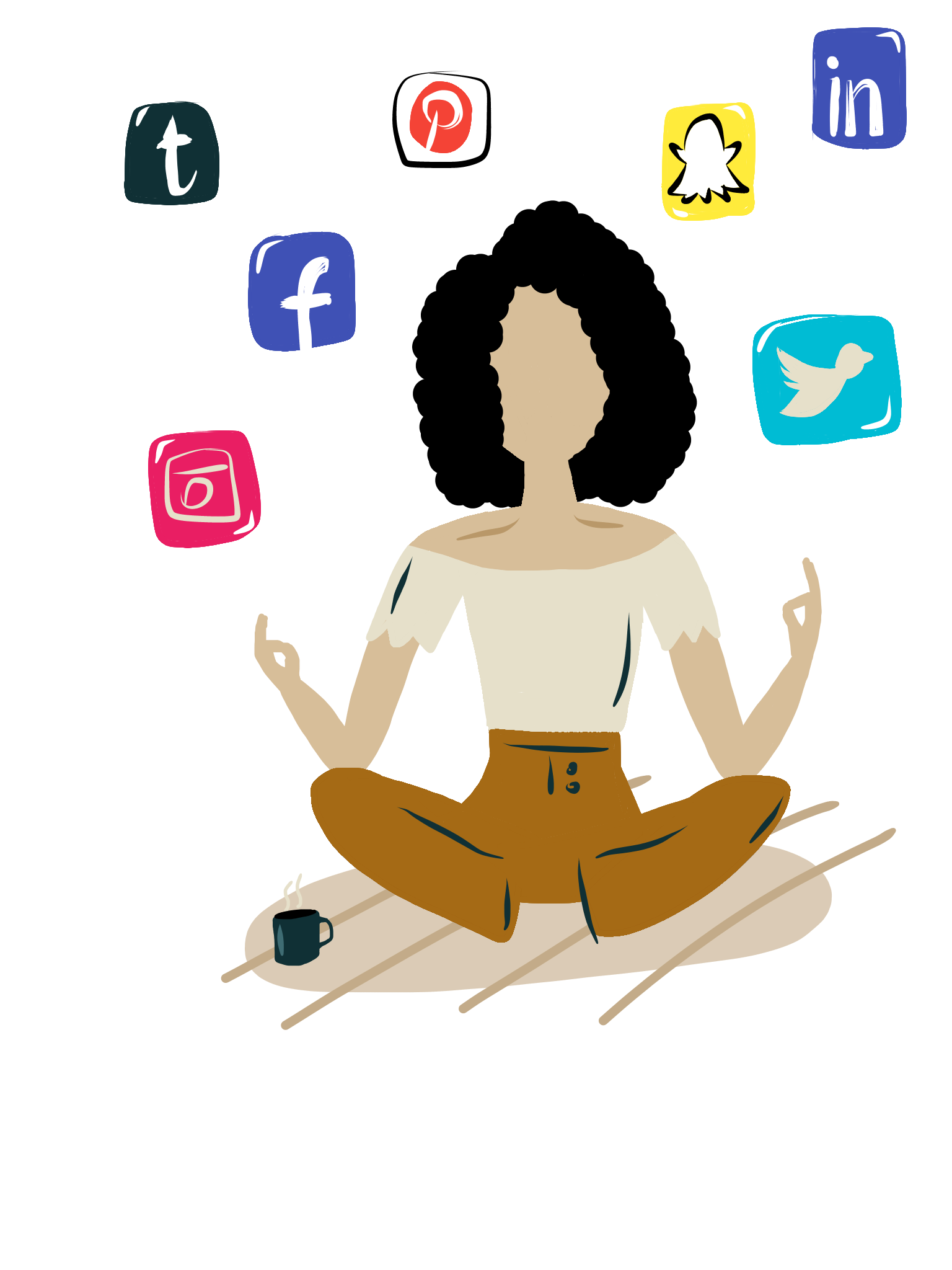 "
we can transform our toxic relationships with social media into healthy ones"
The social media detox is important, but once we come back from this much needed break, how can we keep ourselves from falling back into the pitfalls of dangerous habits like comparing ourselves to everyone on our timeline and reading the comments of a *certain celebrity gossip page* for hours on end? (The Shade Room comments can get dangerous I know you've been there). It's so easy to blame Instagram, Twitter and Snapchat for our social media woes but I'm here to argue that, with a little bit of thought, we can transform our toxic relationships with social media into healthy ones.
Once upon a time, I tried to be a minimalist (About two hours after declaring this, I realized I am actually a, 'keep-a-three-year-old-boarding-pass-for-memories' kind of person). This being said, my short stint with minimalism did teach me one very important thing: If it does not serve a purpose for you, you do not need it. So, declutter your timeline: unfollow, mute, unfriend and block. Set boundaries and don't apologize for it.
Trying to take my own advice, I opened Instagram myself and did my own decluttering:
Thing I didn't really need on my timeline #1: A heated Facebook conversation between my uncle and a troll account with a frog meme as their profile picture.
Thing I didn't really need on my timeline #2: Blurry and over-saturated Instagram photo of an old high school coworker, whose name escapes me, with a bottle of Hennessy in one hand and stack of money in the other hand (94.7% likely to be scammed from a local Wells Fargo). Caption: 100 emoji and something about making money moves.

Ok, now that you've cleaned house: Just as you aim to surround yourself with love, support and inspiration, let this transcend your digital surroundings. Are you an artist? Find some pages that inspire you to create. Do you live with depression? Follow pages that educate and empower you. Is your business in need of a boost? Seek out some entrepreneurs who share things they've learned. Follow accounts that will make your timeline a tool for personal development and a space of empowerment.
Self explanatory. The Social Detox is still a useful remedy, but before you break up with Instagram, let's take some time to consider why our relationship with social media is toxic in the first place. Social media can become a breeding place for issues with body image, imposter syndrome, self esteem and more, but it is just that: a space where these issues that we already have are amplified. Empower yourself to tackle the root of your challenges, because one main thing we learn in therapy is that self care is not easy, and there is always self work to do. (Don't forget to check your own profile, btw because: hard-to-swallow-pill #9272: we all know sometimes the toxic person is yourself. What kind of energy are we putting into the digital world? Does it matter? Is it the kind of energy you want to receive? Do we exist? @descartes we need you)
Now, advice from fellow women:
Laurel is an Atlanta based artist. After studying international politics at Georgia State University and working for various INGOs, she merged her passion for transformative art with activism and education. When she's not reading or creating, you can find her planning her next trip or eating pasta with *extra cheese. (If anyone develops a permanent remedy for lactose intolerance hit her up).